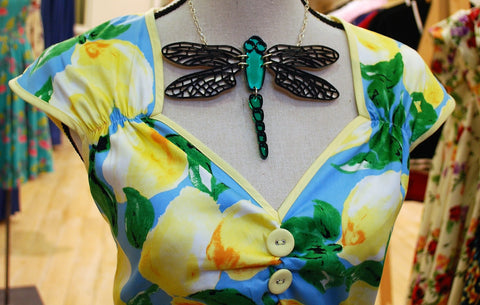 This week we introduce another of Lady Vintage's brand new prints for 2017.  The lemon print!  We have chosen the
Isabella dress
in this print and it is adorable.  Gone is the Isabella's detachable bow from previous seasons and instead we have cute lemon toned buttons at the bust.  Lady Vintage have added a thin belt that matches the buttons and trim of this pretty dress.
What you have is a sweet cotton dress, with a capped sleeve, making it perfect for this transitional season.
Obviously you can't rely on the autumn weather from dawn til dusk to not surprise you with a cool breeze.  Not to worry – we have got you covered. We thought that the indigo bolero from Banned was a great complimentary colour that brightens up the outfit without over-doing, washing out or over-powering any of the colours in the dress.  Boleros are a wardrobe staple.  They are so easy to wear, a perfect length for you 1950's style dresses and available in so many colours.
We've given you two ways to accesorise this ensemble.  First up – we present our favourite statement necklace. Sugar and Vice are second to none when it comes to bold statement pieces.  Their dragonfly necklace is nothing short of spectacular.  Each part of the dragonfly are linked together with joiners meaning the necklace shapes and sits perfectly on your chest.  The reflective material catch the light making it quite dazzling.  We just love it.  The green tones in the necklace are a great match to the leaves in the Isabella dress.
Finally, while you are out and about, you are going to have to have a cutesy matchy-matchy tote bag to carry all your essentials in.  The Sun Jellies Fiesta Gina totes in green are so fun and so fabulous.  This vibrant tote is almost all you need for autumn.  Who cares about mushy leaves and grey skies if you have this in hand?
We hope this outfit of the week has inspired you with a big splash of fun and colour.
Check out our store for more citrus delights.
First published April 2017