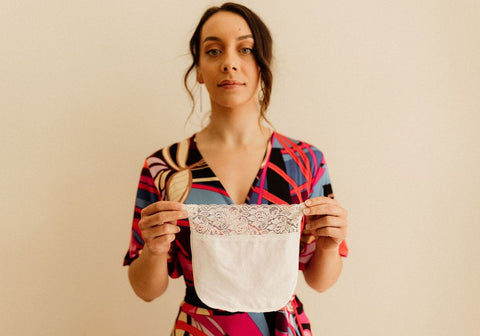 Our mantra has always been - if you've got it - flaunt it! Casual passer-bys of our shop may have heard one or other of us enthusiastically saying as much to our customers.
However, even we accept, that at times, flaunting it is not an option. There are a number of reasons why you want, or need, to cover your neckline.
1. Work
The number one profession cited by our customers for needing a product to cover their cleavage, is teaching. As much as we would like to have the patriarchy smashed from all sides, teachers, in today's classrooms - don't love having teenage boys staring down their cleavage. But they do want the pretty dress or top with the low neckline. 
Get that office to evening outfit by using our Mini-Cami.
2. Covering Surgical Scars
Having surgery either for breast cancer, heart problems, or any reason, can leave scars that can knock your confidence.
We don't want you to feel your wardrobe has become limited because you now bear battle scars.
If a little bit of coverage will give you back your confidence (and your wardrobe), then why not try a Mini-Cami. The 95% cotton fabric is lovely and soft and won't irritate your skin. 
3. Covering Tattoos
It's hard to imagine these days that tattoos aren't accepted everywhere. Whether it's a conservative workplace, or you have regerts - sometimes tattoos need to stay quiet.  Cover that glorious (or regretful) chest piece with our mini-cami. Then whip it off with carefree abandon when the time is more appropriate. 
Alternatives 
Bralettes are often touted as the answer to these problems, however they offer little to no support. Hence the mini cami. It attaches to your bra, and unlike a camisole, doesn't cover your back - so won't effect the look of a dress or top with a low back line. 
If the weather is hot you are not going to want to put on another layer with your summery dress - get that extra layer without the extra layer with the Mini-Cami. 
Colours
We have started our range with classic black and white. Let us know if the comments what colours you would like to see in the future. 
Where to Buy
You can buy your Mini-Cami right here on our site or head into our Napier store at 5 Market Street.