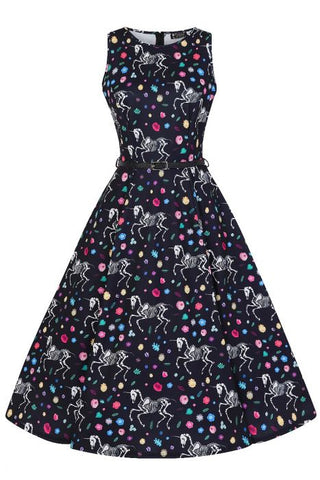 We here at Two Lippy Ladies are advocates for dressing spooky all year round!  However Halloween just adds extra zest and purpose to our spooky endeavors. 
We are all stocked up with super cute Halloween treats. 
Dresses
Lady Vintage have released the COOLEST Halloween prints this year.  They are furiously sewing and we will have these in stock soon!  Watch our website as these will be up for pre-order on Tuesday 16 October for delivery early the following week. 
Cheshire Cat tea dress 
Zombie feet Elsie 
Ghosts and Ghouls Lyra 
We are also happy to welcome back the Graciela dress from Hell Bunny! Available in sizes XS-4XL and at an amazing price!
Sugar & Vice 
Sarah and Matt from Sugar & Vice are the spook King and Queen!  They have not let us down with their quirky-creepy creations this year.  And keep an eye out for their brand new horror range arriving November!
Necklaces
Punky Pins
Punky Pins have come through with the spoooookiest designs in their 2018 Witchin' & Bitchin' range.  Pin a little bit of Halloween to your jacket for year round frights.
This is just a wee sample of what we have on offer - check out all the gorgeousness
HERE
.