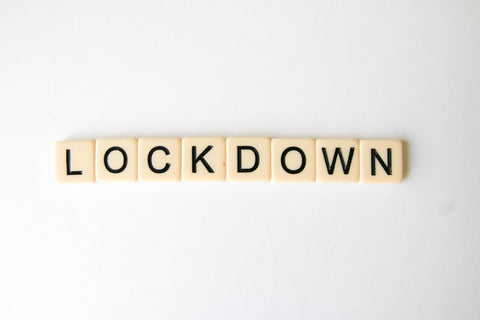 Well here we are again, staying home, staying safe, and living that lockdown life.
The good news is that we can now ship from our website under Level 3.
Here's a few ideas of little pick-me-ups that might cheer your lockdown experience. 
A Wet-Brush
Our wet-brush detangling hair brushes might be just the ticket to turning around those lockdown knots and tangles. Or maybe just to have on hand for stepping out to the supermarket. Or of course if you have to actually leave your house to do essential work. 
A Pin 
Sometimes it's the little things. Punky Pins have everything from the positive affirmations pictured above to some that are a little more sweary ... And lets face it - nothing like a pandemic to make one a little sweary. 
Speaking of sweary...
Socks 
Nothing says staying in all day like a cosy pair of socks. And whether your prefer your socks to be sweet, sweary, or covered with dinosaurs, then we have the socks for you.
A Cosy Cardigan 
We have reached what we in Aotearoa like to call Spring. And as we all know that can mean record breaking temperatures one day and Antarctic blasts the next. It pays to have a cardigan on hand at all times. Especially for slouching around in at home. We have a range of colours and styles - including this cute spooky number. 
Looking Presentable for Zoom
Here's a few little treats that can have you looking the part for those pesky zoom meetings. It might be socks and trackies beneath the view of the camera, but you can be all style in front of it. 
Earrings
Nothing like a fun pair of earrings to zoosh up any outfit, and you won't find a range more fun that ours.
And remember we only buy earrings from small creators so when you buy earrings from us you are supporting not one but two small businesses. 
Lipstick
Slapping on some lipstick is the easiest way to get Zoom ready in a hurry. Our by Samantha range of mineral lipsticks are cruelty free, made in Melbourne, and 100% gorgeous.
Tops
We have all the pretty tops to tuck into your trackies and look the part from the waist up! And there is nothing quite like a black and white monochrome to stand out in the Zoom grid. 
A Lyra dress
One day we had a customer try on a Lyra dress in store and declare, "it's like I'm wearing pyjamas except I look beautiful!" She was not wrong. Lyra's have the comfort of your pjs with the glamour of a wrap dress. Look effortlessly fabulous in seconds (no ironing required) in one of these gorgeous numbers. 
So there you have it, eight little lockdown pick-me-ups that we can ship to you during Level 3. 
Stay safe everyone and take care of each other.