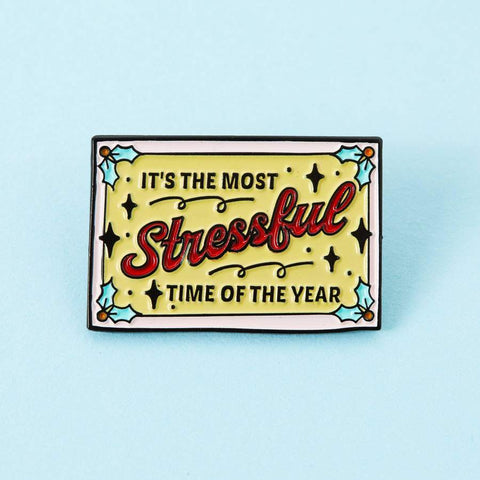 Christmas is upon us and you may be stuck for a little something for someone special. Let us save the day with our top ten stocking stuffers for this Christmas.
1. We Design Our Own Pins!
2022 saw our new venture in designing our own pins expand into several new designs. Treat yourself or a friend, especially ones who are very busy and important getting things done this Christmas. 
2. We Sell Punky Pins!
Punky Pins continue to come at us with fun new designs at a rate of knots. Our lastest collection is designed by locally based artist, Aimee Sullivan. Celebrating some of our favourite things - books, coffee and spookiness! These are selling fast so if you know someone who needs to unwrap one of these on Christmas Day - do not dilly-dally!
3. Tame that Mane!
If the friend you need to buy for has hair, then do we have the brush for you. The Wet Brush has been one of our very top selling products for the last few years, with fans buying them for every member of their family. Perfect for busy lives, the Wet Brush is designed to brush hair while it is still wet, without causing damage, and getting those pesky knots out with ease. And the best thing - no matter your giftee's taste - there is a brush design to suit everyone.
4. Smelly Balls!
Did someone say balls? Australia's cheeky new reusable car freshner is here! Gorgeous felt balls to hang in your car and scent with one of their amazing essential oil based fragrances. This is the absolute perfect Secret Santa gift for the person who you just can't figure out. Who doesn't love a punny brand name? Who doesn't want their car to smell amazing?
If we might say so ourselves, we have the prettiest, most eclectic range of earrings to choose from at Two Lippy Ladies. Choose between gorgeous Christmas themed studs, to fabulous statement dangles. Always made by small, original designers, and always amazing. 
Socks need not be the boring Christmas gift that they have been traditionally. Liven up your ankles with our fun, and occasionally sweary, Punky Pins sock range. 
7. Keyrings
Everyone has keys right? But does everyone have a cheeky little Punky Pins message dangling from theirs? The world cannot have enough keys adorned with Punky Pins fun, and often pointed, designs. 
8. Retro Sunglasses
To finish off your Two Lippy Ladies outfit, one really needs a pair of retro style sunglasses. We have a timeless range of cat eye, tortoiseshell, bold black, and old time movie star style frames. Perfectly priced to meet your Christmas budget and perfectly timed for the upcoming summer fun. 
9. Mini Cami
Do you have a friend or family member who complains they can't wear low tops? Make your shopping trips with them less painful with this simple solution - the mini cami. The extra layer without the extra layer! Solve all those low neckline problems with this simple clip in design. Available exclusively from Two Lippy Ladies. 
10. Still Stuck? Get a voucher!
With our vouchers you can order on Christmas Day and it will be delivered straight to your recipients inbox. And let's face it - who doesn't love a chance to treat themselves?