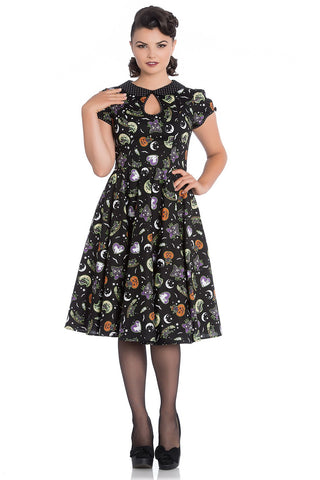 Is it too soon to talk about Halloween?  We don't think so - especially as many of you will be planning your outfits for the Blood Moon Ball.  We also might be of the opinion that 'Halloween' clothing can be worn all year round.
This year we have brought in some ghoulishly fabulous goodies from Hell Bunny, Creep Heart and Killstar that we think you will love.
So without further ado - here, in no particular order, are our top ten favourites:
1. The Hell Bunny Salem dress
2. Creep Heart Fancy Dress brooch 
3. Killstar RIP bag
4. Hell Bunny Miss Muffet Skirt
5. Creep Heart ghost girl mini pin
6. Hell Bunny Haunt tote
7. Hell Bunny Matou dress
8. Creep Heart Kitten of Spades earrings
9. Killstar Spooky Harajuku backpack
10. Hell Bunny Matou blouse
We have other spoooooky items available on our site too for you to see - search 'Halloween' and see what you find .... if you dare.