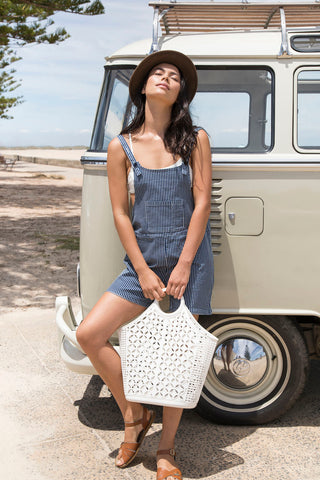 Summer is nearly here and so is Christmas.  We have compiled a list of our favourite under $50 gift ideas to make your shopping a little easier. 
Either shop online or pop into our Napier store and let us help you pick something out.  Or head down to the Box Pop-Up in Ahuriri from 30 November - 9 December where our gifts will be mingling with some of Hawkes Bay's best creative retailers. 
Sun Jellies
Nothing says summer like Sun Jellies!
The Sun Jellies 2018 summer collection includes gorgeous pastel shades across their tote, basket and handbag range.  Why not match with your mini and get a Sun Jellies basket each? 
Come into our shop and check out the rainbow of colours available.
Sugar & Vice
Do you have that one family member who is always a bit tricky to buy for? We think they will love a piece from UK artisan jewellery designers Sugar & Vice.
Sugar & Vice's range include horror inspired, spooky and quirky pieces.  All made to the highest quality in their UK studio.
Festive Punky Pins
Oh my goodness Punky Pins sure have delivered for Christmas this year.  They have released their fabulous Christmas Pins on Christmas card backings!  The Christmas cards that just keep on giving!
And don't forget to check out the rest of the Punky Pins range.
The Quick Flick 
Give the gift of perfect wings this Christmas! The Quick Flick has been our absolute top seller for 2018 and there is good reason for that.  Everyone wants to have the perfect winged eyeliner but so many of us struggle to get them just so. Take the struggle away from your loved ones and buy them a Quick Flick set!
Bok Bok B'Gerk
Nothing beats the gorgeous handmade goodness of Bok Bok B'Gerk.  Such a sweet range of brooches, earrings and cardigan clips. Made in Australia and hand painted!  Yes all those teeny details are hand painted. Stunning little wearable works of art we say.  
The Wet Brush Pro
We have the perfect hair brushing solution for knotty, tangled hair!  Say goodbye to all the tears and fuss with one of these fabulous detangling brushes from Wet Brush Pro.
Minifanfan
Introducing our newest creative, the incredibly talented artist/illustrator Gee Fan.  Her Minifanfan range includes the quirkiest and cutest pins, badges, patches, jewellery and cards.
Pop Up at the Box, Ahuriri
We will be joining seven of our closest friends for a little pre Christmas pop-up shop at the Box in Ahuriri.  It may be possible to do all of your Christmas shopping in one go!  Make sure you don't miss out. 
And finally...
And last but not least - a little something for your family's resident Christmas-hater.