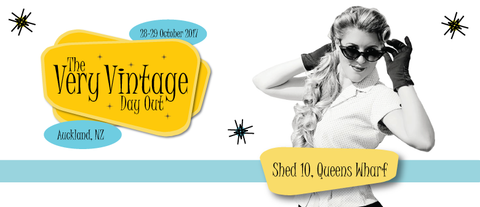 The countdown is on!  There is just a few short days until the Very Vintage Day Out 2017.
Two Lippy Ladies will be there!  To find us head upstairs to booth 91 (near the main stage).
We are very excited to be showcasing our favourite brands.  Here is a taster of what we are bringing:
Lady Vintage
As the North Island's only authorised seller of Lady Vintage we of course will be bringing pieces from their new range.  Made in London with love with new shipments arriving at Two Lippy Ladies every week - we always have a gorgeous range in store and online. Now is your chance to come and see what all the fuss is about. 
Cry Cry Cry
Cry Cry Cry is a brand new label out of Wellington. Fran (formerly of Swonderful) designs and makes her own range and has sent us a small, but perfectly formed, collection to showcase at VVDO.  Cry Cry Cry dresses sell like hotcakes in store in Napier so make sure you head to our booth to see what all the fuss is about.
Sugar & Vice
Sugar & Vice designers and makers Sarah and Matt make the COOLEST and most original laser cut acrylic jewellery.  Unlike bigger acrylic jewellery companies, Matt and Sarah design and make each piece themselves in their UK studio.  We will be bringing pieces from their brand new tarot inspired AA17 collection as well as many old favourites.  Make sure to come and see for yourself why Sugar & Vice have built such a loyal following over the last ten years.
MAK Sweater
You asked - and we listened - we are very pleased to be able to bring a range of MAK Sweater's classic cropped block colour cardigans to Very Vintage Day Out.  We will have having exclusive VVDO two for one specials so make sure to come see us first as we do think these will sell out.
Bok Bok B'Gerk 
Bok Bok B'Gerk make the cutest laser cut wooden, hand painted jewellery.  Michelle and her team make all their jewellery in house in their Australian studio and it's all just too adorable.  We will be bringing their gorgeous new Christmas range to VVDO.  We thought the gingerbread house brooch is the perfect accessory to the Hell Bunny Gigi dress (below) - so why not get them both!
Hell Bunny
Hell Bunny need no introduction.  They have been one of our favourite, and strongest, brands since our inception.  We are always excited each year to see what Christmas range they will release and we LOVE the Gigi dress.  We will have sizes XS-4XL at the VVDO - so come and see us and get your Christmas ON!
We will also have their classics - capris and circle skirts - just what every pin-up needs.
Sun Jellies
Nothing screams summer quite like Sun Jellies.  We will bring you allll the summer colours in their cute retro baskets.  Perfect for storing all your shopping as you peruse what's on offer at VVDO 2017!
Petticoats!
And of course - our exclusive high quality unicorn, circus and paua frilled rainbow petticoats!  Do not leave the VVDO without coming for a twirl.
As you can see the Two Lippy Ladies booth is not to be missed!  If you are in Auckland this weekend make sure you get to the Very Vintage Day Out.  If you are at the Very Vintage Day Out, then be sure to head up to see us in booth 91 first.  
See you there!