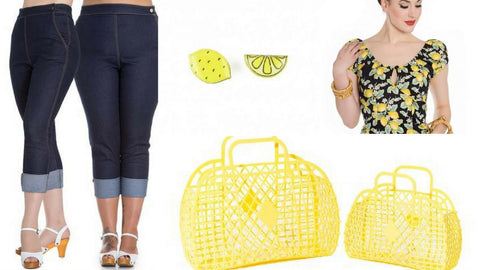 We've just had a huge drop of new season
Hell Bunny
 as well as all your old Hell Bunny favourites.  So of course Hell Bunny is going to feature heavily in this week's super zesty outfit of the week!
The Hell Bunny Ronnie capris should be a staple of every vintage inspired wardrobe.  Such a versatile, flattering capri.  They can be teamed with all your cute
tops and tees
.  They look sweet with your favourite flats or dressed up with some cute heels.
Hell Bunny Ronnie capris
We have teamed our capris this week with the brand new 
lemonade top
.  This top is peasant style in cotton – perfect for this summer heat.  The print is really gorgeous, featuring bright yellow lemons, green leaves and white lemon blossoms on a black background.  The same print is also available in a
 stunning dress
.
Hell Bunny lemonade top
And of course you can't just stop there.  You need to add accessories!   A vintage inspired wardrobe is all about bringing the whole outfit together with cute matching jewellery and bags.  We have no shortage of bright and fruity accessories at Two Lippy Ladies.  The latest Bok Bok B'Gerk collection features a whole range of fruits and fabulousness.  Of course the perfect thing for this outfit are the lemon earrings.  We also have adorable lemon cardie-clips and brooches.
Bok Bok B'Gerk lemon earrings
And finally you need a bag.  At this time of year you will be outdoors a lot.  Whether it be the farmers market, beach, pool or just a saunter around the town – you simply must get yourself a Sun Jellies retro basket.  They come in a riot of bright and cheerful colours.  With this outfit you really can't go past yellow.  Failing that – why not try black?
Sun Jellies retro basket in yellow
So there you have it – a super cheerful outfit of the week!  Have fun ladies…
~Natalie
First published December 2016